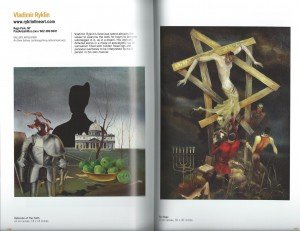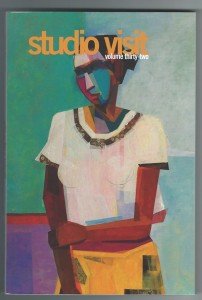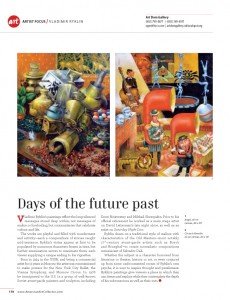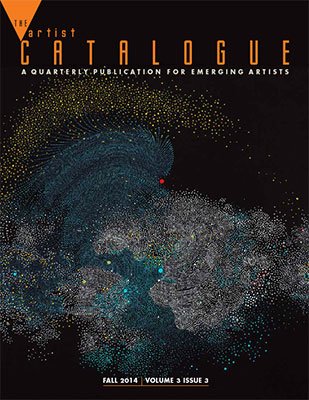 La Jolla Night Paper
From "Horror and Hope" by Greg Gianas, Art Seeker …Vladimir Ryklin, as a person, appears to be less serious than Chemiakin and Neizvestny; although appearances are often deceptive. Ryklin loves to laugh and joke. However, this rollicking love of life is usually not prominent in his paintings which he says are "strongly influenced by the literature of Poe and Hoffmann – literature in painting" he calls it. Thus, Ryklin's oils are surreal like Dali, earthy like Brueghel, often foreboding like Bosch, and always playful like Chagall, with motifs of growth and music pervasive even though often pictured in a dormant state. A commercial artist for fifteen years in Moscow, Ryklin was commissioned to make posters of the New York City Ballet, the Vienna Symphony, Soviet Ballet and Moscow Circus before he was granted asylum in New York last year. He says that Russian artists "live two lives – one of prostitution". This "prostitution" results from not being able to express oneself as an individual. Ryklin explains that artist in the Soviet Union must apply for permission to show their paintings to another person. If the permission request is accepted – if – then five to ten people must review the paintings to validate their acceptability to Party politics. As you might expect, individualized expressions are outlawed or confiscated. Showing photographs of earlier paintings, Ryklin revealed the effect of oppression. One painting depicted a mass of ears and telephones "the instruments of the KGB". Another, portrayed people in bottles "searching to be alone but hiding in a prison of their own making". Ryklin was especially enthusiastic when describing a series of paintings titled "the Bound People" which revealed people whose arm where bound with rope but whose minds were full of fecund thoughts. As the paintings of the "bound" people progressed, the arms were freed but the minds were left empty of creative thoughts. Talking to these artists at least raises two questions and one conclusion. Do people need to suffer to be creative? Do people create suffering to become "artists"? The conclusion comes from Romain Rolland, a Nobel Prize winner in literature: "In a field of Art there is not – there should not be – any rivalry among nations. The only combat worthy of us is that which is waged, in every country and at every hour, between cultures and ignorance, between light and chaos. Let us above all have all the light that can be saved." The minds and spirits of these dissident Russian artists – if not some of their art – offer hope for a freedom we often take for granted, at our peril.
The Jewish Week, Washington, D.C.
Soviet Émigré Artists Exhibit
By Jules Rosenthal page 19
"Vladimir Ryklin is a surrealist painter and draughtsman whose work is so obviously inspired by social and political themes that he can't afford to deny any political content. "I don't want to talk about politics," he said, "look at my art, everything you see is obvious, so make your own conclusions." An ever recurring icon in his work is the "scarecrow", now in a shape of a cross, then in a shape of a Star of David. Ryklin denied he is pessimistic. "I am only pessimistic when I work. Otherwise, I'm a very cheerful man, as you can see now," he said with a broad smile."

Vladimir Ryklin
RYKLIN FINE ART
Ralph Musco
art critic, SoHo "Vladimir Ryklin utilizes different themes and figures from literature, Don Quixote and Edgar Poe among others, and from music, theater, history, paintings, and his own personal life. With these he creates on canvas a world he then populates with a countless multitude of figures and objects such as the hot air balloon, symbolizing freedom. The figures and objects then busy themselves with sometimes distorted and bizarre, sometimes paradoxical, sometimes mysterious but always thought provoking activities, which inspire the mind of the observer and challenge his own imagination. The color schemes reinforce and underline the allegorical symbolism in each work and invite the viewer to contemplate and respond emotionally to it. The power of Vladimir Ryklin's art lies in its ability to attract the viewer to examine the work for hours and to become submerged in his sub-consciousness, as in a dream. They are filled with hidden meanings and personal overtones, which are only partly revealed, to be interpreted by each person in his own manner…"